5-Day Intensive Bootcamp Training:
From Idea To Product Demo.
This will be an inspirational learning experience!
We equip your teams with the digital skills they need through hands-on training solutions. Form project teams and work with dedicated coaches to design and develop an influential venture in 5 days.
Next Intakes:
‣ December 14-18, 2020
‣ Contact us for a custom schedule!
Who Are We?
XNode is a global platform for innovation that drives business impact. Founded in Shanghai in 2015, XNode helps startups, entrepreneurs and corporate innovators build the next big thing.
Le Wagon is specialized in technology education with training centers operating in 40 cities worldwide. Founded in Paris, France in 2013, Le Wagon has quickly become the No.1 rated coding bootcamp around the world. Le Wagon does not only teach coding & technical skills, it also helps people think differently and innovate.
Together, XNode & Le Wagon gather powerful resources to offer you a tailor-made training solution to up-skill your employees.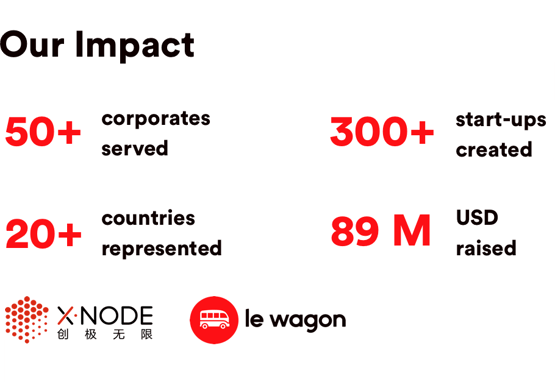 Learn With A Structured

Curriculum.
Full access to the learning database:

You will get the access to our proprietary learning platform that contains slides, quizzes, live-codes, etc.during the bootcamp; after the bootcamp, you can still access the database to review knowledge anytime anywhere.
Foster a supportive learning community:

We can set up and manage a dedicated

online community to

support the trainees

during

and

after

the training. We make sure learners get the support they need.

Help you get prepared before-hand: Prior to the bootcamp, we are happy to suggest pre-learning materials as preparation work to help your team enhance the over-all bootcamp learning experience.
Training application management: We provide a custom application system for you to manage your training application process which makes it efficient for you.
Learn In A Collaborative
Tech Environment.
At our downtown Jing'an campus, trainees are welcomed with complementary breakfast and lunch daily.
Each day of workshop is led by a seasoned instructor specialized in the topics and fields; learners are carefully supported by teaching assistants in the classroom.
Upon requests, we can provide laptops to avoid any difficulties with your IT admin rights and software installation. To stay relevant, we use tools compatible with your organization.
Day 1: Ideation workshop
What are your struggles in your job/department? You and your team will explore challenges from different perspectives, clarify problems and define potential opportunities for collaboration to happen.
▸ Key Learning Outcomes
Concept Generation: New ideas mix with experienced insights will be generated and well- defined concepts that you form during the workshop can be implemented in the future.

By going through the ideation exercises and toolkits, participants will learn techniques about how to come up with more business ideas and apply innovation thoughts in daily job.

Full Access To The Toolkit:

The toolkit that we used during the workshop will be given to you after the bootcamp and keep generating new concepts.
Day 2-4: Building a Prototype
For 3 days, put on your product creator hat and build an interactive prototype for your idea. You will learn the best practices of User Interface / User Experience design and get hands on experience with the best-in-class toolkit.

‣ Learning Goals
Create the User Flow for your product
Learn to build UI Kits and wireframes for a website or mobile app
Practice Usability Testing - a way to quickly put a project into your product into customer hands and get feedback
Build an interactive prototype and learn to do a product demo
‣ Key Learning Outcomes
Ship a prototype to share with end-users for feedbacks or developers for building
Prepare a product demo, to be used in communication with stakeholders
Develop awareness of new digital tools, that can be used in various parts of your business
Understand how to visualize and productize your ideas with quick and clear outcomes
Involve your teams through concrete training. Understand how to better assess your teams and better recruit in this field
Day 5: Pitching workshop
Our goal is to help you to improve communication efficiency as a success factor. You will learn the approach to clarify presentation logic of your innovation ideas, to be easily understood and presented to potential clients, stakeholders and colleagues.
‣ Key Learning Points
A quick win approach for innovation teams to stand out and shine before demo day or selection day

A long-term methodology and critical professional skill to empower employees who has passion about intrapreneurship to fulfill their innovation ideas
‣ Key Learning Outcomes
Know how to do a compelling pitch on an international stage

Practice & master storytelling, voice control, body management, etc.

Access full toolkit that you can re-use and keep generating new concepts with concise and explicit decks

Access a pitch deck to be used for pitching event and customer validation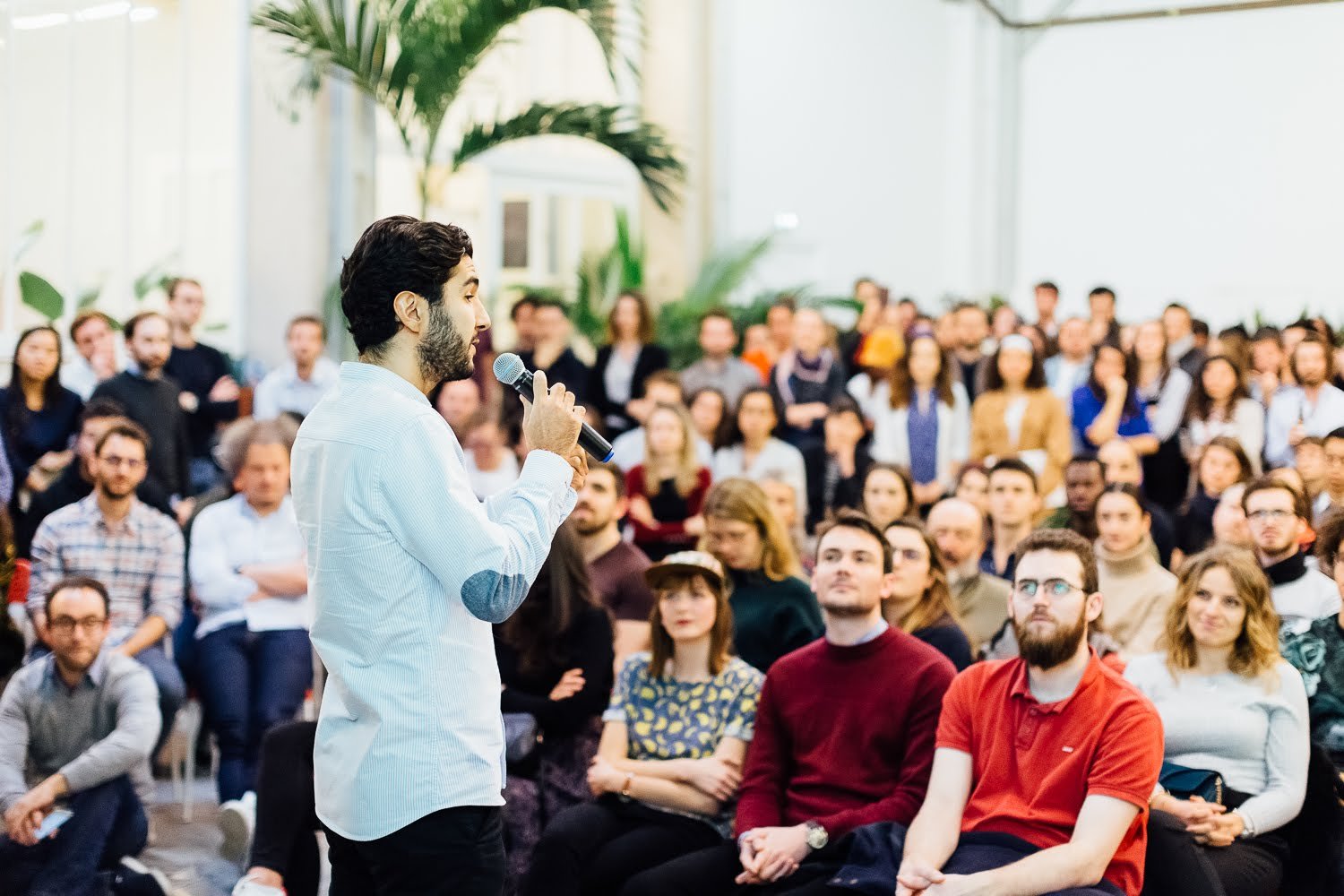 -FAQ-
---
1. Is this an online or offline program?
We definitely encourage on-site learning in our hacker-space in Shanghai if circumstances allow, the fact that you will interact with coaches and peers face-to-face can create a BIG difference in learning!
However, if there are travel restrictions on your side, we also provide an alternative "remote learning" solution where we use our learning management system along with other digital tools to deliver the workshops, and we ensure that your learning is efficient and effective no matter where you are located.
2. What is the teaching language?
We have both Chinese & English speaking instructors for different topics during the program.
3. Are there any prerequisites to join this program?
None! This program is accepting total beginners.
4. Where is the training location?



129 West Yan'An Road, Jing'An District, Shanghai, China
Embrace

Technology

In Your Company.
Learn about the multiple ways to instigate tech in your company culture.
We achieved more than expected in the bootcamp. In a few days, our teams were able to go from idea to a prototype to show to our key stakeholders. Moreover, the tools and practices we learned opened our eyes to brand new possibilities!
We made many new connections at the bootcamp and had a better understanding of many challenges a start-up faces in their journey. The program was a great way to combine education, team-building and make an achievement altogether. The instructors were professional and kept the pace at a good level.

More Questions? Ask Away!

Hi! I'm Yiyao. I will be your host for the bootcamp. Feel free to book a call with me or send me an email with any questions you have about this program! Happy to discuss one-on-one further.
Email: yiyao.jia@lewagon.org